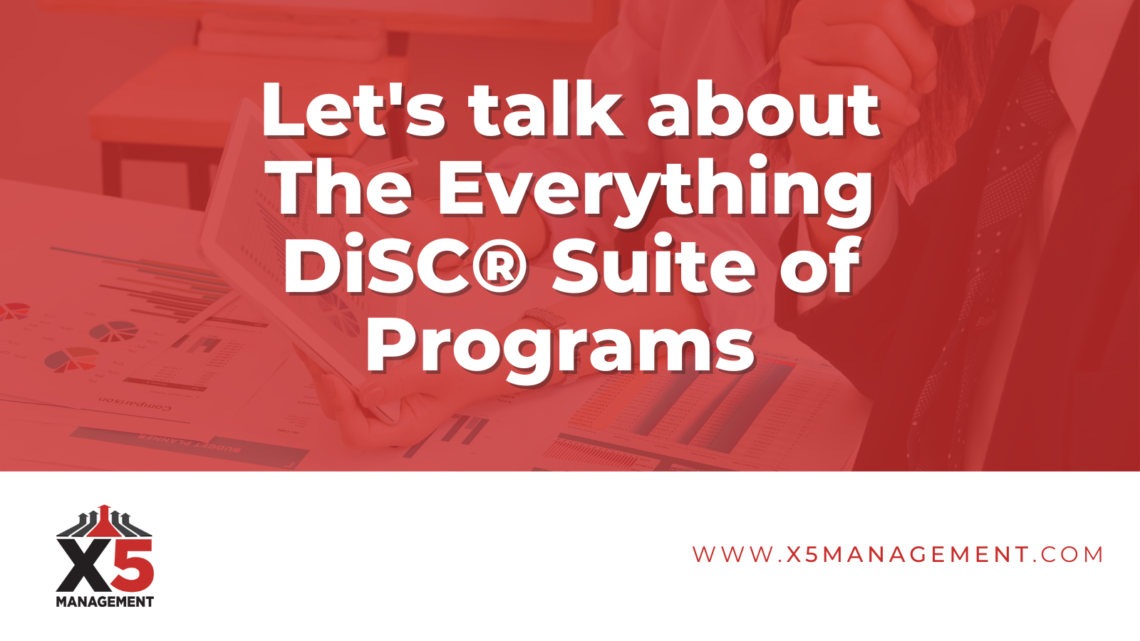 Unlock engagement, inspire collaboration, and ignite cultural transformation with Everything DiSC®. The Suite of services is explained and can be taken in a sequence (and qualified for the Canada-Alberta Job Grant), or taken independently. Either way, this program will improve workplace culture with personalized insights that inspire behaviour change. 
Everything DiSC® is a personal development learning experience that measures an individual's preferences and tendencies based on the DiSC® model. This simple, yet powerful model describes four basic styles that serve as the foundation of the Application Suite. Participants receive personalized insights that deepen their understanding of self and others, making workplace interactions more enjoyable and effective. The result is a more engaged and collaborative workforce that can spark meaningful cultural improvement in your organization.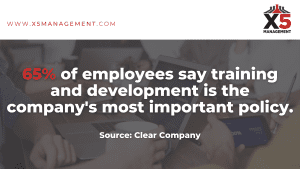 Backed by 40 years of research, X5 Management can create customizable solutions that meet your organization's unique training needs. Read through this Suite and consider starting your organization on the path from personalized insight to cultural change.  
The Everything DiSC® difference connects people on a human level to deliver "a-ha" moments that transform workplaces from talented individuals into collaborative, thriving cultures.
Everything

DiSC

® Workplace

 
Engage every individual in building more effective relationships at work. 
Everything DiSC® Workplace is a personalized learning experience that can benefit every person in an organization, regardless of title or position, in building more effective relationships at work. 
The Everything DiSC® Workplace Profile focuses on: 
Discovering your DiSC® style

 

Understanding the styles of others

 

Building more effective relationships

 

Exploring People-Reading and Comparison Reports

 
The Everything DiSC Workplace Profile provides you with valuable insights that will help you better understand yourself and others, all while offering actionable ways to strengthen your relationships in the workplace. Using a research-validated learning model, the profile offers personalized insights for participants, helping you discover how to better connect and effectively work with each other. Everything DiSC Workplace
can be used with people at any level in an organization, ultimately improving the quality of the workplace. 
Speaking of great relationships, we cover how to deliver quality service in this post.
Everything

DiSC

® Management

 
Teach managers to successfully engage, motivate, and develop their people. 
Everything DiSC® Management is a personalized learning experience proven to increase the effectiveness of anyone in a management role.  
The Everything DiSC® Management Profile focuses on: 
Your DiSC® Management style

 

Directing and delegating

 

Motivating and developing others

 

Working with your manager

 
Participants learn how their management style influences how they manage time, make decisions, approach problems, and what they need to do to adapt to the styles of others to bring out the best in each and every employee in their charge.  
Everything

DiSC

® Work of Leaders

 
Create impactful leaders through the process of Vision, Alignment, and Execution. 
Everything DiSC® Work of Leaders is a personalized learning experience that connects unique leadership styles to real-world demands. 
Everything DiSC® Work of Leaders focuses on: 
A simple, compelling model of leadership

 
Personalized insights to leverage strengths and overcome challenges

 

A clear path for improvement

 
Using the framework of Vision, Alignment, and Execution, Work of Leaders encourages leaders to understand their own leadership behaviours and how these behaviours impact their effectiveness. 
Provide salespeople with the skills to adapt to customers' preferences and expectations.
Everything DiSC® Sales is a personalized learning experience designed to help salespeople successfully create customer-centric interactions that improve results.
The Everything DiSC® Sales Profile focuses on:
Understanding your DiSC® style
Recognizing and understanding customer buying styles
Adapting your sales style to your customer's buying style
How to adapt DiSC style to meet the customer's needs
Everything

DiSC

® Productive Conflict

 
Harness the power of conflict by transforming destructive behavior into productive responses. 
Everything DiSC® Productive Conflict is a personalized learning experience that increases self-awareness around conflict behaviours.  
The Everything DiSC® Productive Conflict Profile focuses on: 
Deepening understanding of self and others in conflict

 

Understanding and recognizing destructive behaviours

 

Exploring techniques to redirect destructive behaviours into more productive responses

 
Rather than focus on a step-by-step process for conflict resolution, Everything DiSC® Productive Conflict provides you and your team members with techniques to curb destructive behaviours and effectively respond to conflict situations. The program features an exploration of DiSC® in a conflict context, provides an opportunity for you to explore your destructive conflict responses, and offers you a method for making more productive choices in your response to conflict. 
Everything

DiSC

® Agile EQ™

 
Develop the emotional intelligence necessary to support a thriving agile culture. 
Everything DiSC® Agile EQ™ is a personalized learning experience that teaches participants to read the emotional and interpersonal needs of a situation and respond accordingly. 
The Everything DiSC® Agile EQ™ Profile focuses on: 
Discovering your DiSC® style

 

Understanding your EQ strengths

 

Recognizing your EQ potential 

 

Committing to customized strategies for building agility

 
Participants will discover the instinctive mindsets that shape their responses and interactions, recognize opportunities to stretch beyond what comes naturally to them and gain actionable strategies to become more agile in their approach to social and emotional situations.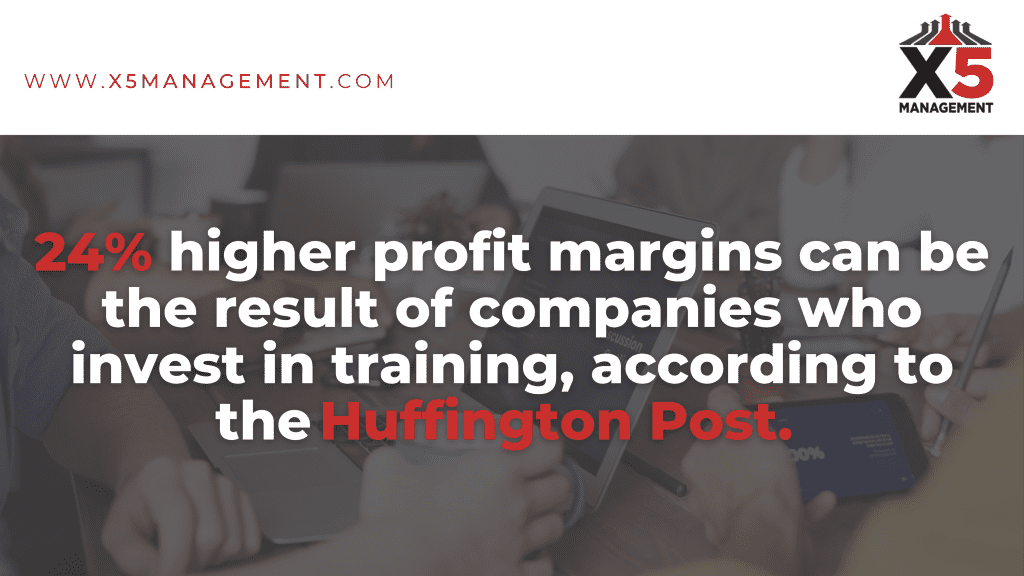 Start your people on the right path, from personalized insights to culture change.
The Assessment: 
Powered by 40+ years of research

 

Adaptive testing and sophisticated algorithms

 

Precise, personalized insights for each participant

 
The Profile: 
Personalized content that utilizes the DiSC model

 

Insights on personal preferences and tendencies as well as relating to and working with others

 

Actionable strategies for improving interactions and, ultimately performance

 
The Facilitation: 
Classroom experience that engages and educates

 

Easy-to-use facilitation tools (scripted content, contemporary videos, activities, and more)

 

Customizable to meet the needs of your people and organization

 
The Follow-Up Tools 
Allow participants to go deeper into their DiSC style

 

Provide real-world tips for connecting with colleagues

 

Help participants gain insight into their team or department's DiSC culture

 
What is the Canada-Alberta Job Grant?
The Canada-Alberta Job Grant is an employer-driven training program where employers use a third-party training provider like X5 Management to deliver formal training to new or existing employees. The grant provides businesses with the opportunity to provide training for their employees to enhance their skills to help drive optimal results for their employers. Using the Canada Alberta Job Grant to invest in training your employees is a smart and cost-effective way to bring out the very best in your team and take your business to the next level. 
F

ive Steps for Accessing the Canada-Alberta Job Grant
Schedule a complimentary Discovery Meeting with X5 Management so we can determine your training needs and how we can best support your business.

 

Select the X5 Management Training Program that best meets your needs. (X5 can tailor and customize any program for your business.)

 

Identify who/how many employees will participate in the training.

 

Complete and submit an online training grant application. (Refer to the 

CAJG Applicant Guide

 for full details and instructions. X5 Management can support you and guide you along the process.)

 

Pending your CAJG application approval, X5 Management will plan and schedule training dates that work best for your business. (Virtual or In-Person Training is available).

 
As an award-winning Authorized Partner of The Five Behaviors™ program, X5 Management works with teams to help them gain alignments in the five areas of the Five Behaviors Model. The Five Behaviors™ has become the industry-leading workplace training program proven to deliver business results. Organizations that embrace this program see increased team collaboration, heightened customer service, improved reputation, and many more tangible results.
Your business needs to achieve collective results from every employee. At X5 Management, we support employers with customized training programs. Please let us know how we can help build up your business and your people. Discover how we can help your team to achieve!  
X5 Management offers an extensive list of sales and service-related courses/workshops that can support virtually any business's training needs in any industry. If your business wants to take advantage of the grant so that you can expand on workplace communication, team development, leadership training and development for your employees, we would be pleased to discuss your organization's training needs.
Did you like reading about these leadership topics?