Does your business struggle with:
If you answered yes to any of these points, we can help!
Expert Training Facilitators
Learn how our experienced
team can help train
your employees.
Experienced Business Consultants
The people who breathe life into X5 every day are committed to lifelong learning and the sharing of knowledge.
Tailored Training Material
Tailored training materials
to help your company
improve its
sales and customer service.
SEE HOW X5 MANAGEMENT'S CUSTOMERS HAVE BENEFITED
Stahl Peterbilt

Customer Service is a vital component of our business regardless of the economy. Every member of our team is aware of the importance of going above and beyond to retain our valued customers. Mike Mack's book, Remarkable Service is a great reminder of what we must do during every customer interaction. When a customer has a challenge or problem, it must become our problem and we must make every attempt to solve the problem for our customer.

Eddy Stahl

President
Arrow Engineering

The simplicity of Mike's message in his book Remarkable Service makes it a valuable read. It is my belief that every business in any industry can benefit from the insights that this book offers, and we must be reminded that the little things that are done consistently can make a big difference. At Arrow Engineering Inc. we strive to deliver remarkable service at every touch point of our customer's experience.

Greg Burghardt

President & CEO
Allwest Commercial Furnishings

Remarkable Service is an easy read, but more importantly, providing remarkable customer service is easier to achieve than many think. Mike Mack lays out a number of key strategies that any business can adopt, complete with great examples. I particularly like the chapter on Why the Little Things Make All The Difference – you don't have to blow things up and start over to provide Remarkable Service – you can simply make incremental small changes that add up. Go right to page 31 and make your list now!

Lorne M. Wight

President & CEO
Northwest Territories Chamber of Commerce

Mike Mack has an uncanny ability to create clarity about the key concepts of remarkable customer service. His book provides simple, practical, plain language advice, using powerful and compelling anecdotes from real life, to put the delivery of remarkable customer service within reach of all those who have the will to achieve it in their businesses. A great read.

Richard Morland

President
NAI Commercial Real Estate Inc.

It's not enough to just talk about customer service, it needs to be constantly worked on. Mike's book helps you put tangible and actionable items to work to better increase your organization's customer service. A great read on an crucial business topic.

Chad Griffiths, CCIM, MRICS

Partner, Associate Broker
Lexus of Edmonton

I want to write a recommendation for this great little book. This book from Mike Mack has many great nuggets in it that are clear, simple and yet powerful. These nuggets will help you not only improve, but challenge your  business service philosophy. The ideas and examples in Mike's book will help you to look at the way you service your customers and you will learn some great ideas that you can use so that your business has  "Remarkable Service!"

Bruce Kirkland

Dealer Principal
Yellowknife Chamber of Commerce

The Yellowknife Chamber of Commerce hired X5 Management to offer 3 workshops to the Yellowknife business community during Small Business Week in October 2016. Throughout the process of working with X5 Management – we received incredible customer service. X5 answered our questions in a timely manner, created customized training materials for the workshops and delivered outstanding presentations on 'Customer Service Over The Phone', 'Defining Remarkable Service' and 'Enhancing Productivity and Time Management and Creating a Culture of Good Habits In Sales and Service'. X5 was very knowledgeable and his presentations were interesting and relevant to our membership. I would highly recommend X5 Management!

Deneen Everett

Executive Director
EVERYTHING DiSC® SALES: HELP YOUR TEAM CONNECT BETTER WITH YOUR CUSTOMERS.
Everything DiSC® Sales is round table training that uses online pre-work, engaging facilitation with contemporary video, and online follow-up to create a personalized learning experience. Participants learn how to understand the styles of their customers. The result is salespeople who adapt their styles, connect better and close more sales.
EVERYTHING DiSC® WORK OF LEADERS: VISION, ALIGNMENT, AND EXECUTION.
Everything DiSC Work of Leaders® is classroom training that uses online pre-work, engaging facilitation with contemporary video, and online follow-up to create a personalized learning experience. Based on best practices, Work of Leaders connects unique leadership styles to real-world demands, generating powerful conversations that provide a clear path for action.
Everything DiSC is the most in-depth and easily customizable DiSC-based training solution available.
"Enhance your staff's ongoing performance by challenging them to turn their soft skills into hard assets for your organization."
-Mike Mack
The Pain-Free Business ProcessTM from X5 Management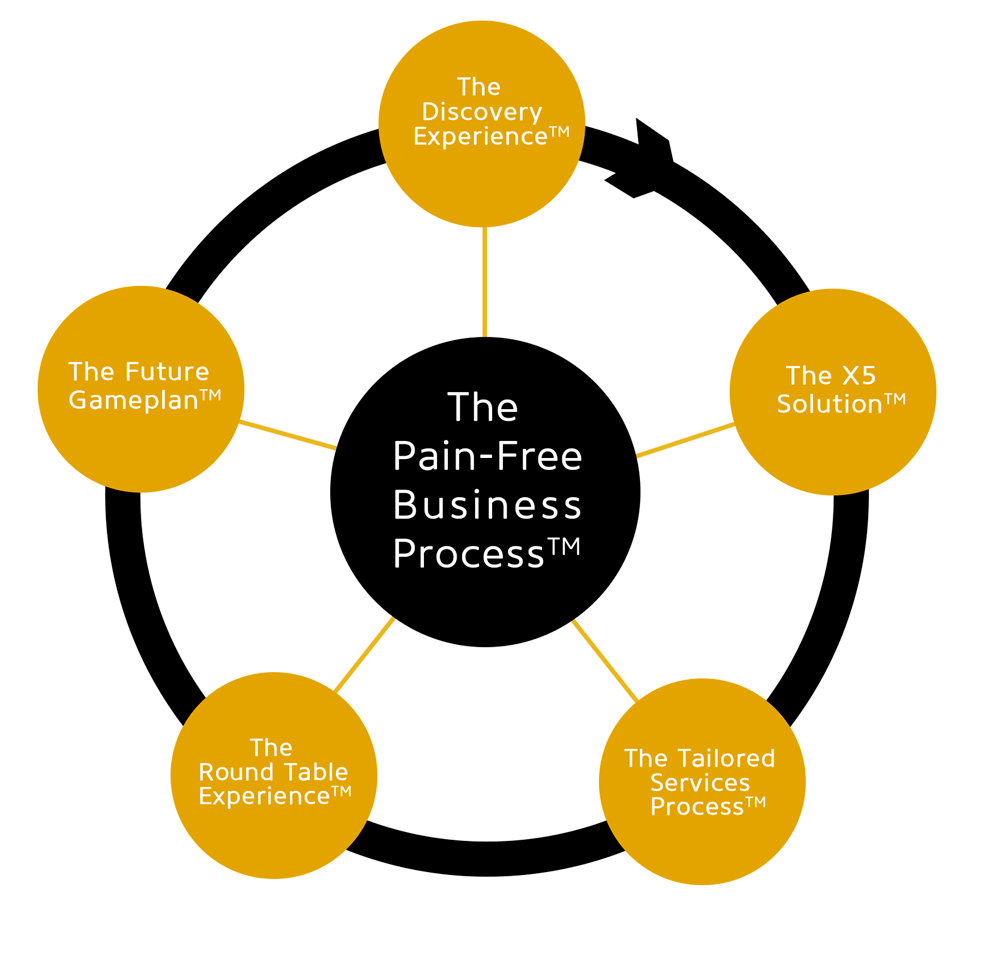 ENHANCE YOUR BUSINESS BY IMPROVING SALES AND SERVICE
X5 specializes in the improvement of sales & service through training, coaching and business consulting. We turn your employee's 'soft skills' into hard assets and help you tackle questions like:
How can your business meet the challenges in today's economy?
What is required for your employees to become more engaged and act like business owners?
How can you increase sales in any economy?
What will it take to retain your customers?
As an Authorized Partner of Everything DiSC® and The Five Behaviors of a Cohesive Team™, X5 Management wants to help you improve everything that matters with your team.
Our relationship-driven approach involves a tailored service model that supports your businesses' specific needs."
THE PAIN-FREE BUSINESS PROCESSTM FROM X5 MANAGEMENT
Experience working with clients across Western Canada has helped X5 develop a powerful process to improve your company's sales and services.
The Discovery Experience™ – The first step in the process is to establish a base relationship between  X5 and your business to build LRT™ Like, Respect and Trust. Building strong relationships are key to business success. Then, X5 will conduct a full day complimentary discovery process with various individuals of your business to identify current concerns and challenges that exist in your business.
The X5 Solution™ – X5 has different solutions to address the pains in your business. These include: The X5 Team Building Solution™, The X5 Sales Solution™, The X5 Customer Service Solution™, The X5 Leadership Solution™ and The Results Roadmap Experience™.

The Tailored Services Process™ – X5 will create tailored and branded material for you that is a unique package to suit your business and to enhance employee engagement.

The Round Table Experience™ – X5 will facilitate round table style and interactive training to capture valuable insight from participants, enhance employee engagement and improve soft skill development.
The Future Game-Plan™ – X5 will sit down with your management team to determine how to best leverage the key takeaways of our program to date and formalize next step action plan.
Find out more about becoming pain free by contacting our team today.

---
Case Study: Stahl Peterbilt
X5 Management has been helping truck dealership Stahl Peterbilt improve their sales and customer service process since 2012.
"X5 comes to the table, they've got new ideas, a fresh approach to things, they've got lots of experience. They've really helped Stahl Peterbilt immeasurably. If you're looking to bring your business to the next level, this is the kind of organization you want to have on board."
Watch the video to learn more about how X5 has helped Stahl Peterbilt improve their sales and customer service processes.