Does your business struggle with:
If you answered yes to any of these points, we can help!
Expert Training Facilitators
Learn how our experienced
team can help train
your employees.
Experienced Business Consultants
The people who breathe life into X5 every day are committed to lifelong learning and the sharing of knowledge.
Tailored Training Material
Tailored training materials
to help your company
improve its
sales and customer service.
SEE HOW X5 MANAGEMENT'S CUSTOMERS HAVE BENEFITED
Lynn Williams, COO and Owner

RBW Group of Companies

In the time X5 has spent with our organization, I have witnessed a positive transformation in our team. Through their use of strategic planning and reporting initiatives, they have made our team more accountable for their activities and significantly increased their productivity. As a direct result, we have experienced a noticeable increase in sales performance. X5 has been a real asset to our company. They show excellent leadership skills and are remarkable motivators. They have a knack for conducting effective workshop seminars by incorporating personal experiences and encouraging involvement. I have confidence in X5's suggestions and value their advice when making vital business decisions.

Alex Perri, Managing Director

C-Tech Oilwell Technologies Inc., a Dover Company

X5 helped facilitate a number of workshops and offered ongoing coaching support with our team. They focused on how we could improve our communication skills; how we handled conflict (internally/externally); how to make our employees more engaged; how each team member could plan and achieve goals; how they could become more productive. It is evident that the support provided by X5 has helped our team in many ways. In fact, the culture within our business has evolved in a favourable direction. Our entire team has a greater appreciation for what each member brings to the table and we are more efficient overall. If your company is looking to enhance your team's performance and turn your team's soft skills into hard assets, I would highly recommend that you contact the team at X5 to support your business.

Don Humphreys, General Manager

Northgate Chevrolet Buick GMC

"We have engaged X5 Management services over several months and as a Northgate Management team we wanted to expand their support. The Canada-Alberta Job Grant program was very attractive for us as the program could help fund our training needs and we can focus on building the capacity and skill set of our dealership team."

Jeff Sterling, Director of Construction Operations

Delnor Construction

Delnor Construction has utilized the services of X5 Management for multiple Leadership Training Sessions within our company. The X5 Management coaches, materials, and services were exceptional and provided a real benefit to our leadership team. Mike and his team researched the needs of our business and took the time to learn what opportunities for development were available to our group. As a result, the sessions prepared by X5 were interactive, relevant to our business, and tailored to meet the specific challenges we face within our organization. We would not hesitate in recommending X5 Management to work with a business looking to improve their management skills.

Deneen Everett, Executive Director

Yellowknife Chamber of Commerce

The Yellowknife Chamber of Commerce hired X5 Management to offer 3 workshops to the Yellowknife business community during Small Business Week in October 2016. Throughout the process of working with X5 Management – we received incredible customer service. X5 answered our questions in a timely manner, created customized training materials for the workshops and delivered outstanding presentations on 'Customer Service Over The Phone', 'Defining Remarkable Service' and 'Enhancing Productivity and Time Management and Creating a Culture of Good Habits In Sales and Service'. X5 was very knowledgeable and his presentations were interesting and relevant to our membership. I would highly recommend X5 Management!

Eddy Stahl, President

Stahl Peterbilt

We have been very pleased with the impact that X5 has had on our business and how we realized that we had opportunity to improve. While X5 made recommendations for improvement they also coached our team with any implementation to ensure that we continued to improve. On behalf of Stahl Peterbilt, we look forward to our continued business relationship and we are committed to maximizing our business potential in the years ahead.
EVERYTHING DiSC® SALES: HELP YOUR TEAM CONNECT BETTER WITH YOUR CUSTOMERS.
Everything DiSC® Sales is round table training that uses online pre-work, engaging facilitation with contemporary video, and online follow-up to create a personalized learning experience. Participants learn how to understand the styles of their customers. The result is salespeople who adapt their styles, connect better and close more sales.
EVERYTHING DiSC® WORK OF LEADERS: VISION, ALIGNMENT, AND EXECUTION.
Everything DiSC Work of Leaders® is classroom training that uses online pre-work, engaging facilitation with contemporary video, and online follow-up to create a personalized learning experience. Based on best practices, Work of Leaders connects unique leadership styles to real-world demands, generating powerful conversations that provide a clear path for action.
Everything DiSC is the most in-depth and easily customizable DiSC-based training solution available.
"Enhance your staff's ongoing performance by challenging them to turn their soft skills into hard assets for your organization."
-Mike Mack
The Pain-Free Business ProcessTM from X5 Management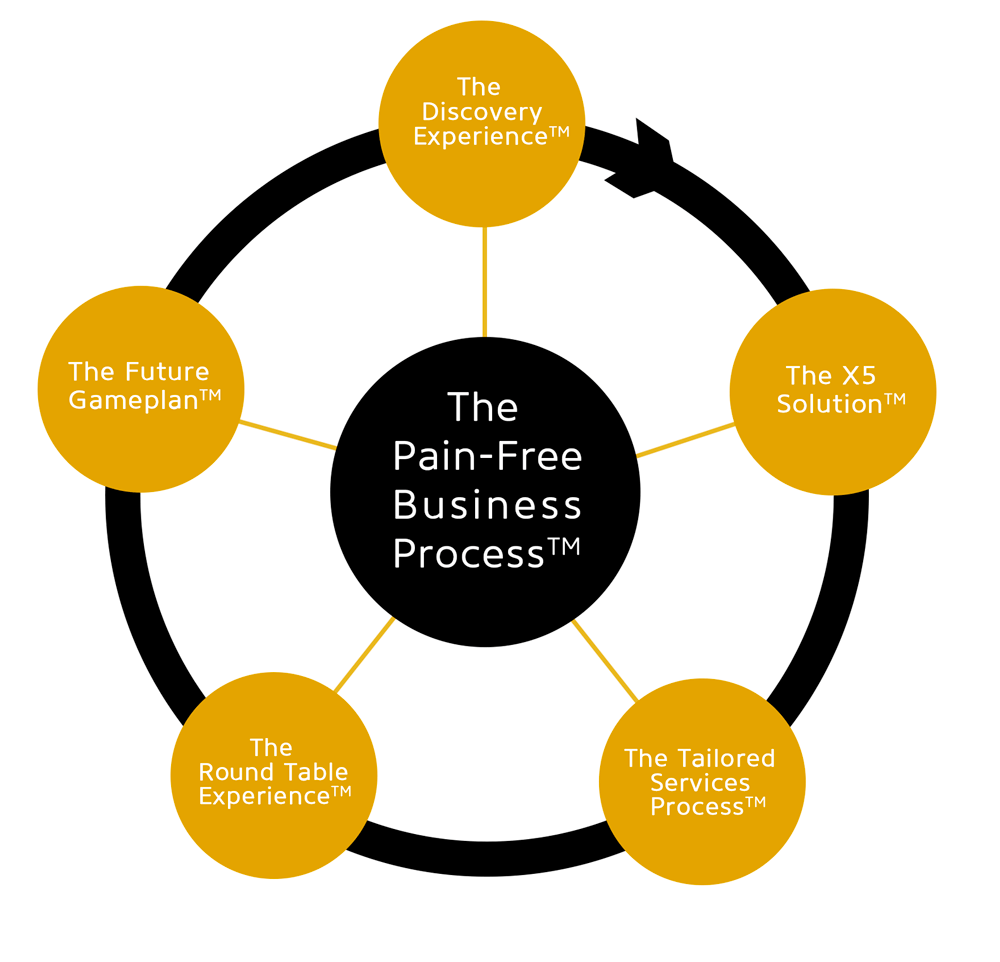 ENHANCE YOUR BUSINESS BY IMPROVING SALES AND SERVICE
X5 specializes in the improvement of sales & service through training, coaching and business consulting. We turn your employee's 'soft skills' into hard assets and help you tackle questions like:
How can your business meet the challenges in today's economy?
What is required for your employees to become more engaged and act like business owners?
How can you increase sales in any economy?
What will it take to retain your customers?
As an Authorized Partner of Everything DiSC® and The Five Behaviors of a Cohesive Team™, X5 Management wants to help you improve everything that matters with your team.
Our relationship-driven approach involves a tailored service model that supports your businesses' specific needs."
THE PAIN-FREE BUSINESS PROCESSTM FROM X5 MANAGEMENT
Experience working with clients across Western Canada has helped X5 develop a powerful process to improve your company's sales and services.
The Discovery Experience™ – The first step in the process is to establish a base relationship between  X5 and your business to build LRT™ Like, Respect and Trust. Building strong relationships are key to business success. Then, X5 will conduct a full day complimentary discovery process with various individuals of your business to identify current concerns and challenges that exist in your business.
The X5 Solution™ – X5 has different solutions to address the pains in your business. These include: The X5 Team Building Solution™, The X5 Sales Solution™, The X5 Customer Service Solution™, The X5 Leadership Solution™ and The Results Roadmap Experience™.

The Tailored Services Process™ – X5 will create tailored and branded material for you that is a unique package to suit your business and to enhance employee engagement.

The Round Table Experience™ – X5 will facilitate round table style and interactive training to capture valuable insight from participants, enhance employee engagement and improve soft skill development.
The Future Game-Plan™ – X5 will sit down with your management team to determine how to best leverage the key takeaways of our program to date and formalize next step action plan.
Find out more about becoming pain free by contacting our team today.

---
Case Study: Stahl Peterbilt
X5 Management has been helping truck dealership Stahl Peterbilt improve their sales and customer service process since 2012.
"X5 comes to the table, they've got new ideas, a fresh approach to things, they've got lots of experience. They've really helped Stahl Peterbilt immeasurably. If you're looking to bring your business to the next level, this is the kind of organization you want to have on board."
Watch the video to learn more about how X5 has helped Stahl Peterbilt improve their sales and customer service processes.