With X5 Management's ongoing business success, it continues to be vitally important that we give back to our community and continue to be good corporate citizens. We have done that with financial donations, volunteering of time, or providing in-kind services for non-profit organizations in Edmonton that we have a close connection with.
We have also provided our skills and expertise and the non-profit organization wasn't required to pay for those services. We have found this to be very gratifying and rewarding.
An example of this included a great Edmonton-based community organization; Bissell Centre, "Everything Bissell Centre does is grounded in its vision of eliminating poverty". After meeting their CEO, Gary St. Amand, and hearing a presentation he delivered in the fall of 2016, I was moved by what the organization did for our community and knew that I wanted X5 Management to get involved.
I met with Gary and offered leadership training services over a period of a few years, and this was offered at no cost to Bissell Centre.

X5 still makes annual financial donations to Bissell Centre as well. Our small way of giving back!
What other non-profits has X5 supported and why?
Edmonton's Food Bank provides food for over 30,000 people each month, and that number continues to grow as more local families face more difficult economic times. Their request to those more fortunate is to create a community where no one goes hungry. There are never enough dollars to feed everyone, but we are taking action in support of this great cause.
I have a connection with cancer and have lost many loved ones over the years to this dreadful disease, including my beautiful mother in 2007. Canadian Cancer Society (Run for the Cure), Movember Foundation, and Pilgrims Hospice Society are all worthwhile causes that I feel are worth supporting and doing a small part in finding a cure.
The Mental Health Foundation is a charity situated at the intersection of the community and the health care system. Mental Health challenges are widespread, and we are taking responsibility to contribute to their foundation of this ever-growing crisis.
Kids Kottage and Rotary International (Supporting inner city lunch programs) are worthy causes supporting high-risk children in need, including crisis intervention and proper nutrition. It is difficult to comprehend that children can fall through the cracks, but it does happen more than we realize. These are two more worthy causes I feel strongly about and am proud to support.
Benefits and Rewards of Volunteerism
I have lived and worked in Edmonton for over 25 years and truly love what our city/community is about.  In many respects, it is a large community that has small-town roots and connections.
When I first moved here, I literally knew 3 to 4 people, and those connections were work colleagues. I soon realized that if I was going to build relationships in our community, I needed to get out there and do my part.
The very first opportunity was Rotary International and a colleague of mine at the time invited me to a few local clubs. I had already been a member when I lived in British Columbia, so I was aware of the great things that Rotary does in the community. At that time, I joined the Rotary Club of Edmonton Mayfield and soon became actively engaged and involved in making a meaningful difference, including chairing a major fundraiser for three years to support Compassion House (Rotary is all about, "Service Above Self"). I met many wonderful people, and many of those became dear friends. I eventually became the Club President in 2005 and continued to hone my leadership skills.  It was around that time that I met Brent Collingwood who works with us at X5 Management today.  Brent was a man that I truly admired, and he was and is a passionate Rotarian and I am so delighted to see him take on the District Governor for Rotary District 5370 in July 2023, which is a huge volunteer commitment. Brent's District spans three provinces (BC, Alberta, and Saskatchewan) and two territories (Yukon and Northwest Territories) with 63 clubs and 1,700 Rotarian members.
As I became more entrenched in the Edmonton community (2010), I became a member of Synergy Network (Edmonton), serving as Chair in 2016 and once again expanded my relationship with great community minded people.  I am still a member today.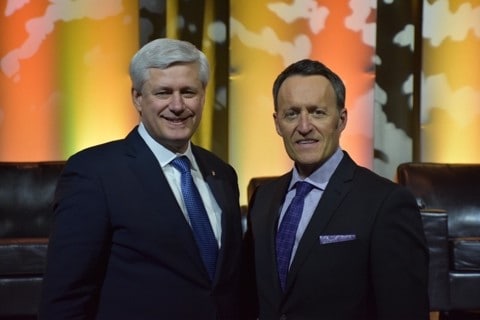 Through my Synergy Network connections, I met a man (Ron Dersch) who suggested that I get involved with ACG (Association for Corporate Growth) and considering my consulting background and outgoing style, Ron thought that I would be a good fit.  When I became a member in 2013, I discovered, without my knowledge, that I would become the Co-Chair for the Annual Corporate Growth Summit the following March.  I stepped up to the challenge and the following year became the Summit Chair and served on the ACG board, and then assumed the President role 2018-19 for ACG Edmonton.  That was a big year as we had many key events scheduled including the year that our Summit keynote speaker was Stephen Harper who served as the 22nd Prime Minister of Canada.  That Summit was extremely well attended and one of our best in Chapter history.
X5 Management Sponsors a Scholarship
As our business continues to grow, I am more compelled than ever to make a difference in our great community, and in 2023 we are very excited to fund our first scholarship in support of a Junior Achievement student in Northern Alberta. In addition, X5 Management became and Ambassador with the Foundation for the Advancement of Entrepreneurship  . The Foundation Chair (Rod Burylo), who has been a long-time friend of mine, and based in Calgary reached out to me and shared what the foundation was all about.  I was instantly sold and committed to supporting the scholarship.

The mission of the Foundation is to encourage entrepreneurship and financial literacy among the youth of Alberta. The objective is to do so by providing scholarships and incentives for high school students that participate in and successfully complete Junior Achievement programs and post-secondary students engaged in entrepreneurial studies or pursuits. This is an excellent fit for X5, and we are excited for the year ahead.
How Corporate Responsibility impacts the team
Times have indeed changed over the years, and today's generation of employee looks to their organization to support a cause, and ideally a local cause, or local chapter. Employees also want to contribute by fund-raising, volunteering, or participating in any way they can.
It is not uncommon for employees to be given time off to volunteer on-site and meet the recipients that will benefit from their volunteer efforts. It gives the team purpose, and a common purpose solidifies a team and creates pride. Charitable giving of money and time demonstrates there is more to a successful business than profit alone.
"Successful people have a social responsibility to make the world a better place and not just take from it."
– Carrie Underwood
At the end of the day, helping others feels good, and giving demonstrates our values. I doubt anyone would ever say otherwise. If we all gave just a little bit more each year, we can build momentum and lead by example for others to follow. We can teach others that giving, not necessarily only monetary giving, builds communities and supports important causes.
With gratitude, Mike Mack