Many people have found they do not really understand their work relationships and colleagues. They may have found themselves in conflict with others and not sure how to handle it. If we understand our own workplace personality, we can better understand how we relate to others and vice versa.
Conflict in the workplace can have a negative drain on culture and, according to a survey of Fortune 500 companies, 92% say improving their corporate culture would improve the value of their company. A poor or weak company culture can:
Negatively impact employee stress levels
Increase employee turnover
Harm customer service levels and ultimately
Hinder ideal communications
Decrease company sales and profits
Engaged employees can help companies achieve a competitive advantage and that has a real impact on ROI (Return on Investment). Today's millennial employee expects their company (and their leaders) to care how they feel at work and may even make a decision on whether to accept a job offer based on what they perceive the culture to be.
The Great Resignation
The Great Resignation has been labelled such since a much larger number of employees, than in the past, are leaving their jobs and Harvard Business Review reports a record number of resignations mid-2021. Many employees report reaching a breaking point after months of high workloads, hiring freezes, and other pressures. Adopting a retention strategy that includes helping employees, and leadership, learn how to work together and collaborate, is a good first step.
We likely have noticed it is easier to work with certain people than others. Of course, we already know we can relate better to some colleagues, but we do not necessarily understand why. Behavioural changes can be created by:
Unlocking engagement
Inspiring collaboration
Igniting cultural transformation
Wouldn't it be great to have a workplace resource to help employees and employers alike, to understand each other and appreciate how their differences equate to strengths for the organization? There is such a resource!
The Everything DiSC Workplace® is a personal development learning experience that measures an individual's preferences and tendencies based on the DiSC® model. This simple yet powerful model describes four basic styles and participants receive personalized insights that deepen their understanding of self and others, making workplace interactions more enjoyable and effective. The result is a more engaging and collaborative workforce that can spark meaningful culture improvement in an organization.
Everything DiSC® is an assessment-based learning experience that deepens self-awareness, inspires appreciation of others, and fosters effective collaboration in the workplace. Backed by over 40 years of research participants can expect customizable solutions that meet their unique training needs.
In a classroom, or virtual setting, the training and personalized learning experience teaches participants to understand themselves and others, while learning to appreciate the different priorities, preferences, and values everyone brings to the workplace. With personalized insights and actionable strategies, participants learn how to adapt to the style of others, ultimately improving engagement, collaboration, and the overall quality of the workplace. Everyone can benefit from that, regardless of title or position, department, or function.
Value is placed on what each style contributes, emphasizing there are no bad styles, just different ones. For example, someone who falls into the "results" quadrant, might learn to relate more patiently to someone in the "support" quadrant. The same goes for someone who may favour accuracy over enthusiasm.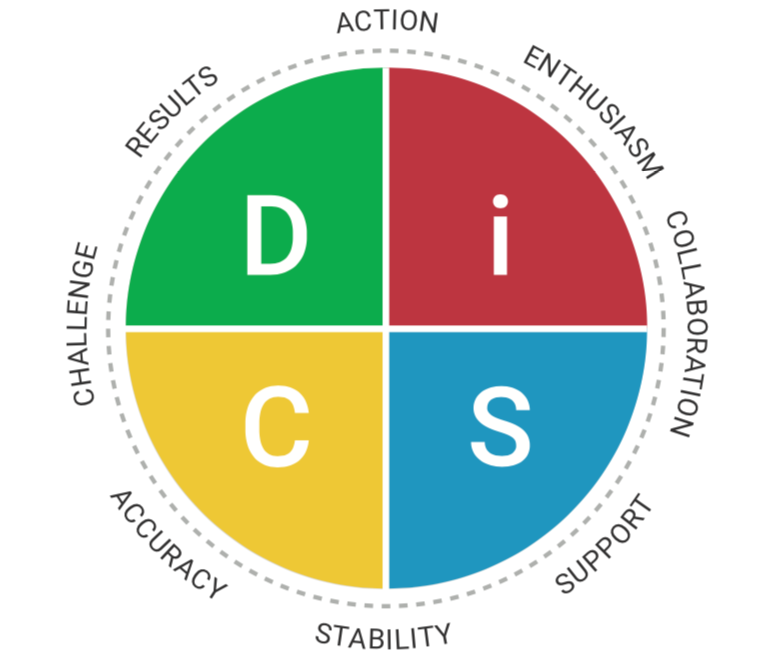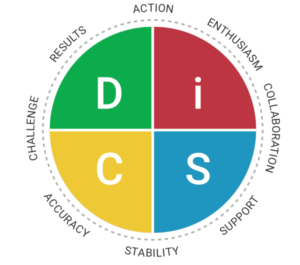 The half-day workshop is interactive, including activities, and provides a variety of resources for future reference on topics such as discovering one's own style, understanding other styles, and building more effective relationships.
Participants are provided with valuable insights that unlock engagement and inspire effective collaboration. In a personalized 20-page profile, participants will explore priorities that drive their behavior, learn what comes naturally and what might be challenging when interacting with others, and gain actionable strategies to strengthen their interpersonal skills at all levels in their workplace.
Understanding the Everything DiSC® program provides one with valuable insights that will help one better understand oneself and others, all while offering actionable ways to strengthen relationships in the workplace. Using a research-validated learning model, this training offers personalized insights for participants, helping one to discover how to better connect and effectively work with each other. Everything DiSC® can be used with people at any level in an organization, ultimately improving the quality of the workplace.
With Everything DiSC®, team members will be able to:
Discover their DiSC® style
Understand other styles
Build more effective relationships
Learn ideal communication skills for a variety of styles
Everything DiSC® connects people on a human level to deliver "A-ha!" moments that transform workplaces from talented individuals into collaborative, thriving cultures. Each workplace has unique needs. Everything DiSC® provides versatile tailoring features that allow each organization to easily design a customized program that is right for them.
The program also offers Comparison Reports between two individuals designed to help better understand one another and to build more effective working relationships. Motivation for each behavior is identified, benefits of working together, and roadblocks that may occur. This allows two individuals to discuss mutual tips to working most effectively together in areas such as risk taking, communication, pace, temperament, openness, and temperament.
A personalized learning experience can benefit every person in an organization – regardless of title or position, in building more effective relationships at work.