It's been a busy year for me and the team at X5 Management and as we continue to grow and support more clients, we are preparing for an even busier year going forward.
While we wrapped up our fiscal year on August 31st, I am always planning months ahead, which I have done for many years, but the past year and the new fiscal year seem different in many ways.
I am a fan of momentum (Big Mo) and as leadership guru, John C. Maxwell once said, "Momentum solves 80% of your problems."
The Law of Big Mo is the sixteenth law of leadership according to John C. Maxwell. The basic premise behind the Law of Big Mo is that motivation is propelled by momentum. Maxwell likens momentum to a freight train—it takes a lot of energy to get it moving, but once it gets going, it can plow through anything.
As we gear up to launch into our 17th year of business in October 2022, the momentum has been building for some time, but most noticeably since late spring of 2020. We were blessed to be very busy, even as COVID-19 took over lives and businesses. Our coaching business grew and our virtual work with clients became the norm back then.
I remember in the summer and fall of 2020. I was on Zoom/Teams calls for over 30+ hours every week.  It was demanding and tiring at times, but incredibly gratifying to be able to support business leaders and their teams during challenging times.
As that pace continued for months and months, I decided to leave nothing to chance and keep that productive momentum rolling along. In the spring of 2021, I made the decision to enhance the momentum even more and invested in a business coach, (Hugh). While I have had coaches before, the investment was not just financial, but also time and commitment.
While having my business coach (he is still supporting me and X5 today) has been a game-changer for me and has been truly invaluable; one of the most significant concepts that he shared and asked me at the start of our coaching journey was simply this:
Current Reality —————– Future Reality
What is your current reality? (At that time, it was April 2021.)
What is your future reality?
I put a time frame of four years out for my future reality, and there were reasons I selected 4 years as it aligned with a big birthday I will have in March 2025.
This simple yet powerful concept enhanced my momentum and X5's momentum and what is still amazing to me is that almost eighteen months later, we can see how far we have come.
Heading into a New Fiscal Year
There are many things that I am excited about, but a few are high on the list.
In late August we added two new team members to X5 Management, and we now have six active team members that can support our clients' needs and our growth. This added capacity is key to our future reality.
I keep saying that I love what I do and in fact can honestly say that I love what I do even more than I did five years ago.  I want to make a difference with every client that we serve. I am excited to have us support more clients and value the relationships that have been built over time.
Another exciting journey in the year ahead is the launch of my third book, which should be available by February 2023. This is my biggest book project that I have ever undertaken and while my last two books were Amazon bestsellers, with an approximate word count of 33,000, my new book; LUNCH WITH LEADERS will be closer to 80,000 words, and in hardcover.
X5 Management's Greatest Accomplishments Last Fiscal Year
It is tough to pick just one so I am grateful to say that there were many accomplishments, some bigger and some smaller.
This ranged from acquiring new and amazing clients, and of course, continuing to support longstanding clients and deepening our impact with their businesses and teams.
Adding more team members that bring tons of experience and skills to X5 is exciting for me. I feel privileged that they want to be part of our team.
One really impactful accomplishment was having an amazing two-week vacation with my wife Bonita in late spring (Switzerland and Greece). It was a much-needed recharge, and I came back refreshed and more focused on our future reality.
How is X5 Management Managing to Grow?
Many people ask me this question and there is not a simple answer.
I take pride in the fact that X5 has been serving business clients since the fall of 2006 and that the momentum of doing what we do professionally has attracted new opportunities.
I do believe that we are good at what we do and are constantly striving to be better.
With the support of my business coach, we are also more focused strategically and operationally. Our investment in marketing has been a key factor as well, and we have put time and resources behind enhancing our website, and optimizing SEO so that more businesses know what we do and how we can help.
Again, Big Mo is a factor, and I don't ever take my foot off the entrepreneurial pedal.  While I love what I do, I must admit that I am a workaholic but try to balance my time on weekends and evenings for fun activities too, but rest assured X5's future is on my brain all the time. After all, it is a key catalyst for my own future reality with my beautiful wife as we grow older together. In addition, with more team members working with X5 I feel morally obligated to do what I can to grow a bigger future reality for everyone.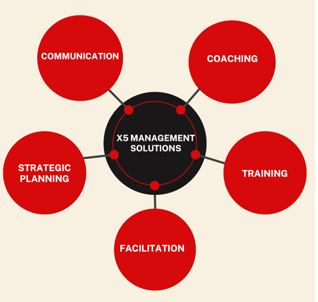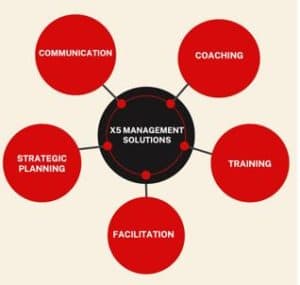 This model illustrates how we help our clients, but at any given time, a prospective client may contact X5 for any of the services that we offer. The most popular service is based on what the client needs at that time. We know that as our relationship with that client evolves, they may request one of our other services to support their business. That works well for both the client and X5. We don't rush that process!
We take pride in the fact that our services can be tailored to every client in any industry, be that home building, manufacturing or transportation, just to name a few.
We also added services this past year, including Facilitation and Diversity and Inclusion Training. All of our services truly complement an organization's business needs, its teams, and the challenges they may face in terms of growth, communication, employee engagement, succession planning, leadership development and strategic planning.
We also provide tailored training and consulting solutions to meet specific business needs and have the flexibility to offer services virtually or in person. We also promote the Canada-Alberta Job Grant, which is a training grant that subsidizes two-thirds of the training costs for eligible applicants. These are all important factors in our growth momentum.
Our Strategic Plans for the New Fiscal Year
While we do this for some of our clients with facilitated Strategic Planning sessions, we also take our own advice and go through the process.
We ask ourselves, what we did well in the past year and what can we improve upon, or change, in the year ahead.
We also identify four or five strategic priorities that we will focus on in the year ahead.  This focus is key and invaluable as it avoids chasing shiny objects in the next three to six months.
We try to stay the course, notwithstanding that when unique opportunities present themselves, we must be flexible and nimble and take advantage of the opportunity.
X5 Management is looking forward to continued growth in the year ahead, including the opportunity to help businesses align their teams to achieve. That is our proud slogan.
My Advice for Business Leaders and Entrepreneurs
Surround yourself with great people, both personally and professionally.
Utilize a business coach.
Focus on your future reality (assuming you want it to be better than your current reality, determine how you can make that happen).
Identify your highest value contribution to your business and try to focus 75% of your time there. Yes, other things come up that you must deal with, but your highest value contribution moves you closer to a better future reality.
Reduce your intake of news. (While you need to be informed, don't get consumed with getting caught in the noise of everything that comes on the six o'clock news or spending hours watching CNN.)
Control the controllable.
What Motivates Mike Mack?
First of all, a person that motivates me professionally (providing me with a motive for doing something) such as writing this blog, is my invaluable and committed colleague Kris Schinke. She likes to challenge me to do things that I may sometimes not think of, like putting this blog together. Thanks for the challenge and push from time-to-time Kris, and for your incredible contribution to me and X5 Management.
My purpose is my motivator. I love making a difference in people's lives and the fact that I get to do that professionally every day is incredibly gratifying. I am always thinking, how can we help more businesses and their teams?
While our own business growth comes with that, it isn't just about our revenue, in fact, it is common practice for me to take a call with a client in the early morning, late at night or on a weekend. I never think about getting paid for that as the priority is supporting them. Don't get me wrong, I enjoy business growth and enhanced revenue to strengthen our business model, but for me, it's about my LRT philosophy (LIKE-RESPECT-TRUST).
I believe that if we serve as the guide and allow our clients the opportunity to be the hero and win in their business, and that motivates and inspires me to get up every day!!