We all have things that we have done, and we all have some things left undone. Ask yourself the question: "Why have I started and completed certain goals, actions, or tasks in my life?" Now ask the next question: "Why have I not yet completed certain goals, actions, or tasks in my life?"
I remember listening to some great audio material from Tony Robbins over 20+ years ago. He said, "When setting a goal, or completing a task, your WHY must be the most compelling." That message continues to stick with me today, and I constantly must remind myself of this. Sometimes daily!
During this past month I had the good fortune of being able to support and coach many people in several different businesses and industries. One session focused on sales performance coaching, and then crossed over to some personal client goals that included health and fitness improvements.
The person I was working with acknowledged that the goals and activities regarding work and business were completed, and on track. However, the personal goals that were set, specific to health and fitness, were not even close to being on track. My comment was, "Your WHY must be more compelling."
His response really hit me: "I have to write that down, because you consistently say that to me." He went on to say, "I really need to make my WHY more compelling!"
"He who has a why to live can bear almost any how." -Friedrich Nietzsche
Why I started X5 Management
In 2005, a year before the fall 2006 launch of X5 Management, it all started with a desire to not be caught up in the bureaucracy of a job that didn't give me joy. I always wanted to make a difference, and the last job before I started X5 didn't do that for me.
If I was going to help people, I wanted lots of variety. No two days would be the same. I didn't necessarily want to work in just one industry.
I have always been quite gifted and comfortable talking and speaking to others. After several years in Toastmasters, I gained even more confidence speaking in front of an audience. I also got a lot of joy and gratification from helping people, especially those who wanted to grow and push themselves. It gave me a real sense of purpose and satisfaction.
Starting a business is not for the 'faint of heart' and it took guts and belief that I could do it. I believed that I could, and I had the desire to give it a solid effort.
If you are like me and you have decided to start a business and leave a stable job, you need a strong internal belief system that will get you through the challenging times, as there will be many.
I knew that I had:
Work Ethic
People in the community that could help me, but I had to ask
Focus
Discipline
The willingness to celebrate the small wins. (There are more of those then you think).
Manage my Emotional Intelligence. (Don't get too high or too low).
If it's going to be, it is up to me. Own it!!
The story behind the name, X5
It's funny reflecting on the naming of X5 Management in the fall of 2006. (That journey actually started months before without any expert advice or marketing wisdom).
There were several reasons for the name.
First of all, the branding started out with a lower case x5. The intent initially was that my business would help companies in multiple ways. Thus the x. It was intended to be a multiplier effect. "We can help you get where you want to go faster."
I also wanted to think that we could be the x-factor for a business. Based on Google x-factor: "a noteworthy special talent or quality. A variable in a given situation that could have the most significant impact on the outcome".
For the record, the lower-case x was replaced with a capital X after year two as I was frustrated by the fact that many people called it 'times 5' Management and not X5 Management. The change to X5 Management from a branding perspective was a good one, in my opinion, and has evolved over the years.
In fact, many people refer to us as just X5 and often don't say X5 Management. I love it as it suggests to me that the brand and name have caught on, at least within the Edmonton business community.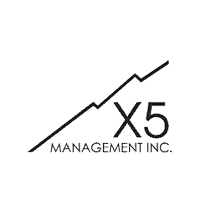 One of the earlier versions of the brand and logo depicted an abstract steep mountain elevation. (An original logo was branded in black and gold and evolved to black and white). Our tagline at the time was "Helping you to the Next Level". That worked for a while, but still didn't clearly define what we did.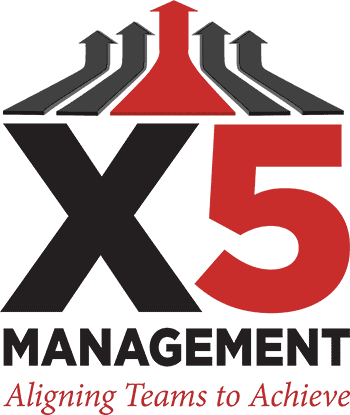 In 2018, we did a further tweak to the brand, logo, and tagline. It was a long process but really helped our team, and definitely me articulate what we do. X5 is in the business to "Align Teams to Achieve". We are in the people business and everything we do involves people. When we can help teams become aligned, or better aligned, great things usually happen for our valued clients. That is what we get up in the morning to do, everyday!!!
The 5 arrows on the logo gave the brand a bolder look and again signified the aligning of a team. This feature, along with moving from a gold and black logo/brand to a red, black, and white was a big change and one that I continue to be very proud of today.
Finally, there were five things that X5 was going to offer our new clients.
While the five things may not have been thoroughly thought-out at the time, I knew that I could generate revenue from each of them, which would help mitigate risk with one single service.
Training
Coaching
Facilitation (Planning meetings and the like)
Public Speaking
Strategic Partner referrals (This ranged from investments to tax-saving solutions)
After three to four years into the business that had some major highs and successes, to major lows and challenging business and life stressors, the core of those five services emerged as the most ideal for X5 and still exist today.
Training – Coaching – Consulting (Including Strategic Planning)
Ultimately the decision to focus on the above three key services offerings came down to the fact that we couldn't be 'all things to all people'.   Training-Coaching-Consulting became a fluid offer whereby we could be doing any one of them at a given time with a client.  This versatility has served us well, and our clients have appreciated the scope of our holistic service offering.
As the founder of X5 in 2006, I have always cared a great deal about what my brand represents. After all, in the early days it was just me and my brand, X5. I have a desire to be Liked, Respected, and Trusted, and I expected the same for the X5 brand. I am a relationship guy and care about people!
Speaking of Strategic Planning, we cover what it does for business in this post! 
While our clients are businesses, or companies, and of course X5 has a corporate relationship with many businesses, it is the deeper connections we have with many amazing people. I treasure that, and value these relationships a great deal. As many of you know, I am a believer in "Relationships for Keeps."
A valued client of X5 Management is a private business that we can work with, and communicate regularly with the decision makers and leadership team. The organizational size may vary from 20 to 600 employees.
Our number one priority is to serve the best interest of their organization. It is never the best interest of our organization. We like to be the guide, not the hero. We want our clients to look good, and I love when we see clients in the news or on social media. It's very gratifying when we see them in a great place, and if we played a very small part of that, it's what we get up the in morning to do.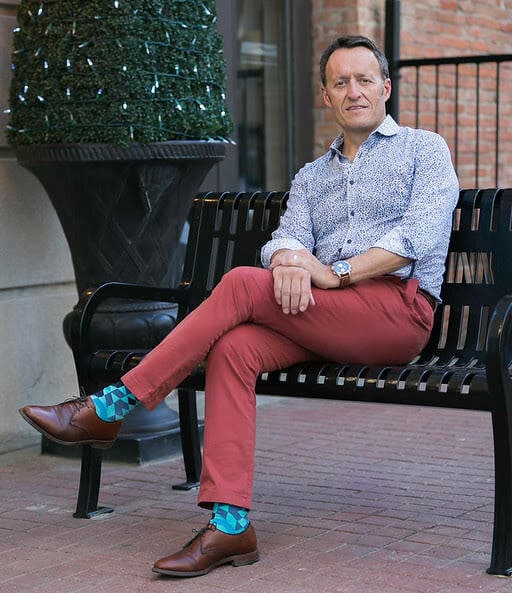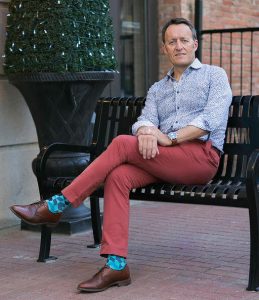 Why Corporate Responsibility is important to me
With X5's ongoing business success, it continues to be vitally important that we give back to our community and continue to be good corporate citizens. We have done that with financial donations, volunteering of time, or providing in-kind services for non-profit organizations in Edmonton that we have a close connection with.
We can also provide our skills and expertise and the organization isn't required to pay for those services. We have found this to be very gratifying.
An example of this included a great Edmonton-based community organization; Bissell Centre "Everything Bissell Centre does is grounded in its vision of eliminating poverty". After meeting their CEO, Gary St. Amand and hearing a presentation he delivered in the fall of 2016, I was moved by what the organization did for our community and knew that I wanted X5 to get involved. I met with Gary and offered leadership training services over a period of a few years, and this was offered at no-cost to Bissell Centre. Our small way of giving back!
What I have learned in 15-years of changing times
Fortunately, I have learned many many things over the years.
My top five learnings that still hold true today:
Relationships matter in business and in life. They always have and always will.
One can't do everything. Relying on a great team and outside wisdom and advice has gotten easy over time.  The more I seek counsel, the stronger X5 becomes, and we can add greater value to our clients.
Leave nothing to chance. A long-term client may not always be our client.  Continually add value to them and never assume what you did last year is enough for the year ahead.
Recharge and rest. I love to work. (Likely deemed a passionate workaholic) My wife Bonita has been a tremendous support to me and when we plan a vacation 3-6 months out, at the time I may think how much work we have to do, but when the vacation days arrive it becomes a blessing that we take the time to relax and recharge.  I have found that I always return from a vacation wiser and more creative.
Embrace change and maintain momentum. When the winds of change start blowing (FYI…..they never stop blowing) go with it and leverage that momentum. The spring of 2020 and the lockdowns of -in-person meetings due to COVID-19 forced X5 to pivot to a virtual world, that ended up serving us well.  We upgraded lighting in our home office and purchased better cameras and enhanced internet connections.
Whether you want to:
Increase revenue for your business
Generate more income
Nurture a relationship
Complete your tax return early
If you truly want to complete, accomplish, or create something, your WHY must be compelling.
Sometimes the WHY is obvious. "I must fill my car with gas because it is on empty".  That is a pretty compelling WHY. Sometimes your WHY may be less compelling.  "I really should make those sales calls, but it has been a really long day and it might snow".
Only you can find your WHY. My advice is never stop searching!
Mike and X5 Management strive to Align Teams to Achieve, and it's all about trusted collaboration with all customers.

Mike is a consultant, coach, facilitator, speaker, and author. He is a sought-after sales, service, and communication expert. Helping people maximize their potential since 2006, Mike uses leading-edge training programs and a personalized approach. He's passionate about helping companies increase their team cohesion, customer satisfaction, employee retention and achieve enhanced profitability. Mike and the X5 team specialize in Customer Service, Sales, Team Building, Leadership Development, and Strategic Planning.

Mike's Amazon bestselling book, REMARKABLE SERVICE – How to Keep Your Doors Open is about Remarkable Customer Service and how it can lead to enhanced revenue and overall profitability. Mike's second book RELATIONSHIPS FOR KEEPS – How to Build Powerful Relationships in Business and in Life is also an Amazon bestselling book.