What's possible in 2023 with Focus, Will, and Capability?


–

Mike Mack
2022 was a busy and very productive year for the team at X5 Management. There were many things to be grateful for and learn from over the past 12 months. Those lessons learned and the gratitude that it brought to me, and the team will be a catalyst for our success in 2023.
In my 16+ years in business since starting X5 I can honestly say that I am more excited about 2023 than any other year.
There are many reasons for this excitement and optimism.
We have continued business momentum (Big Mo) that will carry us into the New Year with confidence and focus
Our expanded team of capable and skilled professionals has elevated our capacity and growth plans to create a bigger and better Future Reality
I am delighted to have an amazing and highly skilled Executive Assistant support me and the team in 2023 and beyond (Welcome to X5 Angela!!)
Surrounding myself with like-minded team members makes me want to get up early and make a difference with our team and clients
Having the privilege and opportunity to support many great business clients and their teams gives us expanded purpose
All of us have access to ideas and information and those that commit and execute on the key ideas can have forward progressing years ahead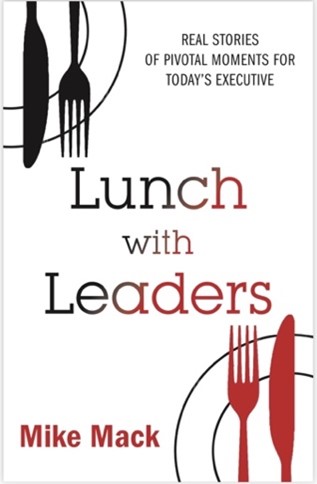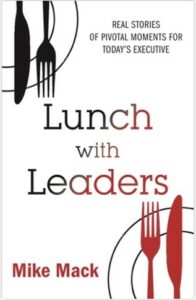 I am also incredibly excited about the launch of my third book, scheduled for Spring 2023. Every successful leader has a story. For some, their story is about why they became an entrepreneur. For others, it's about how they overcame challenges or how they dealt with tragedy. Every story is different. And everyone has the power to inspire. Lunch with Leaders invites you to sit at the same table with highly successful leaders and entrepreneurs, committed advocates, and award-winning business executives as they explore in depth the events that paved the way for their success. Discover the rules they live by. Learn what they value most. Find out what fuels their fire. In Lunch with Leaders, fourteen top executives share the wisdom and insights they've learned about what it takes to run a successful business in the twenty-first century. Their candid honesty will lend invaluable insight and perspective to your own business journey.
As I may have referenced in past blogs, my personal theme in 2022 which was in collaboration with my amazing wife Bonita was "ELEVATE" and focused on all key aspects of our life and career. It created greater awareness and intentionality in all that we do.
The theme was so impactful for both of us both personally and professionally that our 2023 theme is Elevate 2.3, which again focuses on Big Mo and 2.3 signifies the version of elevation in 2023. Elevating your mind and actions doesn't occur in one moment of time. It's a process and if you take one step at a time to elevate who you are and how you think, your level of belief and confidence, and how you show up and contribute will make all the difference in your Future Reality.
"The elevator to success is out of order. You'll have to use the stairs. One step at a time".           
— Joe Girard
On behalf of the team at X5 Management, I wish all our family, friends, and clients the very best for the New Year. May you all enjoy a year of good health, happiness, and prosperity.
Sincerely, Mike
---
Growth and Capacity in 2023
– Kris Schinke
Professionally it has been a rewarding year, and I don't recall being as excited and motivated to support a growing business like X5 Management. The satisfaction of helping other growing businesses, and their employees, is truly gratifying.
I have been involved in a variety of projects, and no two days are the same. I am developing skills in areas that I did not realize I had, and to me, Professional Development is critical to continued growth.
When we prioritize Professional Development, we keep our skills current and credible, and are in a better position to appeal to a wider range of client's challenges and needs. We also demonstrate our willingness to lead by example, which is important because whether we realize it or not, we are all mentors.
In my new role as Vice President – Integration, I look forward to continuing to support X5 Management's growth, both internally and externally. I predict the X5 Team will double in size giving us the capacity to support double the clients. That means creating an effective and efficient internal process that allows us to respond quickly to all enquiries and tailor the ideal program to meet client requests.
I also predict we will continue to create valuable services, particularly Training Solutions, for our existing, and new clients. This menu of Training Solutions will all be eligible for the Canada-Alberta Job (Training) Grant, which covers two-thirds of Training costs. The Canada-Alberta Job Grant is a hidden gem and designed to help organizations facilitate internal employee training and leadership development.
At the same time as working behind the scenes, I am looking forward to continuing to support the many valued clients we have, offering Coaching, Training, and Facilitating. I was able to pursue some unique client opportunities this past year, and I realized when one has an extensive business and leadership background, creating customized workshops and training is as rewarding as it is fun! Some of these topics include Mentoring, Networking, Challenging Conversations, Productivity and Time Management.
In my opinion, there has never been a more exciting time to be part of a successful organization like X5 Management. I have worked for many organizations, both in the private and public sector, and X5 trumps them all!
As our leader, Mike Mack says, "Our personal and professional growth helps us solve future challenges and creates opportunities. You can't face today's challenges with yesterday's knowledge". I know we have done an excellent job hand-picking a qualified team of business experts to help almost any business create wins and overcome challenges!
Best regards, Kris
---
New Year, New Job, and Endless Possibilities
– Angela Mackin
Wow! Where to start? I, like many people, felt the insecurity as a common occurrence in my life after COVID. During 2022 which consisted not only of a great family loss but the uncertainty of finding my ideal position, one that I am about to embark on. I welcome the challenge!
Being an Executive Assistant is a unique role with the advantage of having a front row seat with great leaders. Now, I have the premier pass to watch and learn as the team at X5 inspire momentum, or as Mike calls it "Big Mo".
I am starting this upcoming New Year excited about my new job and role with a sense of affiliation and connection within the team. X5 Management has given me an opportunity to continue doing what I love in an atmosphere that energizes me. Assisting a team whose focus is to maximize professional's potential I find enlivening. Members of his experienced team have the same positive vibes and I know that I have the opportunity to learn from them and their experiences.
I have a positive outlook for my new role. This is largely derived from the sense of collaboration that I have witnessed during my orientation period.
During the past month, I have had the benefit of receiving inspiration and encouragement from Kris effectively navigating me through the orientation process. Instead of throwing me into the deep end of the pool, Mike, Kris, and the team have taken me under their wing to continue with the creativity necessary to maintain and further X5's solid foundation. I have also had the honor of meeting some of my new coworkers early and appreciate how welcoming they have been.
Cheers to 2023, the year I start my purposeful new adventure with the feeling of enthusiasm and discovery.
Looking ahead, Angela
"The strength of the team is each individual member"
---
Leadership Counts
– Gord Sheppard
I look forward to continuing to work for X5 in 2023 for a variety of reasons. To begin with, there is a wide variety of challenging projects to tackle, from doing strategic planning to training teams on how to do productive conflict management and more.
One X5 project that I enjoyed working on in 2022 was when I got to work as a consultant with a small family business. They hired X5 because the business was in chaos and most days, they were mad at each other and weren't sure how to move forward. After I worked with them, they were able to self-regulate, reduce conflict, and put in processes and a strategy that moved the company forward in a positive manner.
Another X5 project that I enjoyed working on was when I delivered a 'Productive Conflict' workshop for 25 senior association leaders. The project was initiated by a senior X5 leader, Kris Schinke, and with her guidance I was able to join the project at a later stage and help to develop the workbook and conduct the training, which made a real difference to those senior leaders as they gained tools to tackle conflict within their organization.
Another reason is the high calibre of clients that I will get to work with in 2023 which includes enterprise level companies and small businesses, large-scale associations, and non-profits with a lot of heart.
It's also important to point out that X5 has strong leadership under Mike Mack. Not only is he supportive and generous, but he also has a focussed ability to attract the right clientele, which then creates rich opportunities for the entire team. X5 also provides important administrative support, and the team is generous with sharing ideas and resources to make sure that all clients get served at the highest possible level.
So, it's easy to see why I look forward to working with X5 Management in 2023.
All the best, Gord
---
Who Holds the Future
– Brent Collingwood
Ralph Abernathy once said, "I don't know what the future may hold, but I know who holds the future". What a fitting way too close out one year and prepare for the next. As X5 Management looks forward to the year 2023 we do so with excitement and optimism because, despite the difficulties and challenges our clients may face, we know they hold the possibility of a bright future in their grasp.
Because of the many hurdles companies and organizations faced in 2022, from the "Great Resignation" to the "Quiet Quitter", they have developed a deeper understanding of the importance of their people and taking care of their people has shifted to become a top priority. This is where X5 Management can help. As a company focused on training, coaching, consulting, and strategic planning, we can act as a catalyst or thinking partner to help companies grow and develop their people. According to Quantumrun, the year 2023 will see the world transform in big and small ways including disruptions throughout cultures, technology, science, health, and business sectors. As they state, "It's your future, discover what you're in for".
Being aware of, and responding to, these transformations will separate future-focused companies from those unwilling to adapt. Planning for the future does not mean that you can predict the future. But it does mean that you can prepare for whatever unexpected circumstances may come your way. Our primal brain often goes to a negative worldview, i.e. what is not possible, but working with a company like X5 Management can help you shift that worldview away from what you may have thought beyond the realm of possibility may now be within the realm of possibility.
The year 2023 holds many unknowns. But this is not unique to this time in our history. Every year holds many unknowns. We may not know what the future holds, but we do know who holds the future, and that someone is you. Embrace it, learn from it, and thrive on the flexibility, adaptability, and nimbleness you will need to navigate these exciting and interesting times.
While you may not know what's around the corner, one thing you can be sure of is that X5 Management is an e-mail or phone call away. Take advantage of the great skill, knowledge, and service that X5 can provide you as a partner on this meandering road of success, whatever success may mean to you.
Yours truly, Brent
~
---
Looking Forward to 2023
– Priscilla Bahrey
What is my goal for 2023?
"To share my knowledge so that people can be their best selves" After years of consulting, training and facilitation and coaching, I decided to pursue an accredited coaching certification. I am happy to say that I am an Associate Certified Coach with the International Coaching Federation. Also in 2022, in partnership with X5 Management, I became an Everything DiSC® certified practitioner.
Why does this excite me for 2023?
Because with this formal coaching accreditation and the Everything DiSC® toolkit, I can support managers in a whole new way. I love helping people to have those "aha" moments and to be able to find new and better solutions – to add a breath of fresh air to their leadership challenges.
Why is this needed, more than ever, in 2023?
We have just come through a very long and difficult pandemic and managers are dealing with hybrid workplaces and are expected to deliver while still creating psychological safety and connection for those they lead.
The 2021 People Management Report reports that team members who feel psychologically safe at work are less likely to leave their jobs. Sadly, a meager three in 10 U.S. workers in Gallup's State of the American Workplace Report strongly agree that their opinions at work count.
Receiving personalized, targeted coaching can define and refine skills and approaches that reinforce psychological safety on teams – virtual teams, geographically located teams or hybrid teams.
What is the value of being connected?
Perhaps the answer seems obvious but the Everything DiSC® tools help teams to understand and work together, to collaborate in new ways and to have sense of connection. That sense of connection from clear communication, engagement, and understanding can impact the culture of the organization.
This is not easy in the changing and volatile environment that we find ourselves leading in. Research by the Wiley organization revealed that two-thirds of employees feel there is a lack of cohesion in their organization due to rapidly shifting priorities and this constant change.
How can leaders prevent burnout?
A clear vision, effective communication and collaboration contribute to a cohesive culture. That sense of connectedness shapes the culture and it's not just about being connected to the organization's strategy or vision and mission but to each other, as human beings. When people feel valued, supported, and engaged in their organization, amazing things can happen.
Coaching allows leaders the opportunity to take a step back and to see the big picture, as one manager that I have been coaching recently said, to "get off the dance floor and go to the balcony". It allows for different perspectives, different approaches, and better solutions.
I am looking forward to welcoming this for myself in 2023 – to share my knowledge so that people can be their best selves – personally, professionally, and as human beings.
Respectfully, Priscilla
To read more about the benefits of leadership coaching, check out this article.
---
An Epic 2023 for X5
– Jody Craig
In March 2022, I was fortunate to join the X5 Management Team as the Principal Administrator in a role that expanded and evolved. The primary role of the Principal Administrator is to organize, coordinate and implement the most efficient business processes and efficiencies in collaboration with the President and Vice President and assisting the team with client projects and deadlines.
In 2023, X5 will be bringing back its customized Time Management/Enhancing Productivity Training that will be a great addition to the key services that X5 offers clients. Factoring in that X5 is a partner with Wiley offering Everything DiSC® and Five Behaviors™ training which is highly specialized and core to the Canada-Alberta Job Grant Program that many businesses are taking advantage of. The Canada-Alberta Job Grant (CAJG) is an opportunity for X5 to assist existing and new clients; time management and productivity are core aspects to businesses of all sizes, and I envision that X5 will experience tremendous growth in these two areas!
When envisioning 2023, I am confident that my business will expand, and I look forward to assisting X5 Management on special projects. I am confident that the X5 Team will be in excellent hands with the new full-time Executive Assistant set to start in January 2023, and that X5 Management will continue to grow and expand its reach to existing and new clients.
Cheers to a New Year – Jody