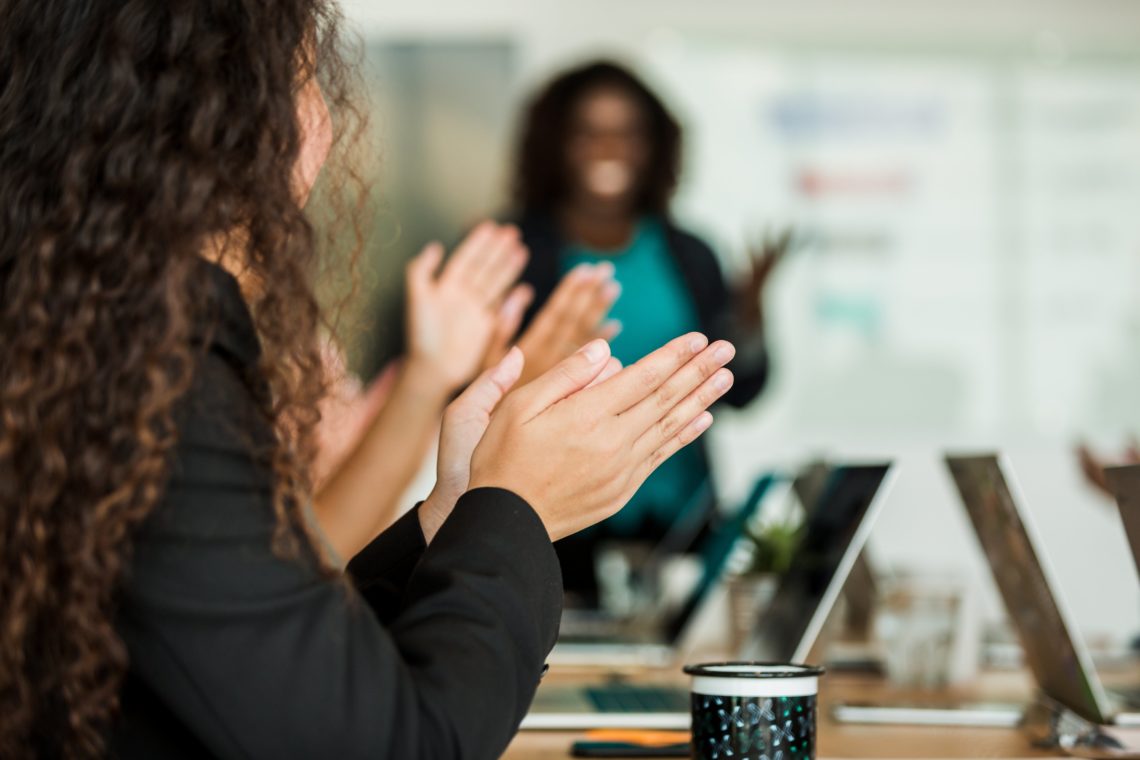 Simply put, recognition in the workplace is defined as "the act of ensuring your employees feel appreciated and valued." As simple as that definition might be, actually creating a culture of recognition in the workplace is a different thing entirely.
Recognition in the workplace has changed over the years as an evolving generation of employees transforms their expectations. With new generations comes progressing values, and that places a new reality on the employer.
Each one of us is part of a generation. Because of that, we typically share similar values and viewpoints. Traditionalists, Baby Boomers, Generation X and Millennials now all share space in the same workplace. It seems each generation has higher expectations than the generation that came before. Ultimately, this makes it a challenge for leaders to understand what their employees want.
Great Place to Work-Certified™ company O.C. Tanner studied employee engagement and how managers can tailor their workplaces to promote it.
An employee survey included the question, "What is the most important thing that your manager or company currently does that would cause you to produce great work?" Respondents answered in their own words, providing a variety of responses.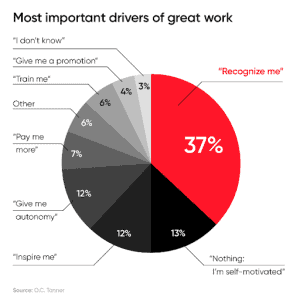 But a clear pattern emerged: Thirty-seven percent of respondents said that more personal recognition would encourage them to produce better work more often.
The employer challenge becomes how to create a culture of personal recognition and remain sincere. Exactly that. It has to be part of the culture, and that takes time. Training leadership is critical since not everyone knows how to "recognize" and show appreciation even with the best of intentions.
The "Now" Expectations
Loyalty awards have long since been a popular form of employee recognition. However, the milestone has dropped from ten years of service in the past to five years of service, or less, in many cases.
In more recent years, and with a war on talent, employers have realized the need to begin the recognition during the hiring process by offering bonuses and other perks right from the start.
With the advances of social media and internal intranet portals, recognition has also evolved to a public message of appreciation on a job or project well done by peers or leadership.
The good news for the employer? There are no costs attached to creating a culture of recognition and appreciation. It must remain sincere, specific and relevant, however. Otherwise, some high-risk employees will scoff at the employer.
According to O.C. Tanner, a recognition software and services company, 45% of surveyed (2020) employees said the recognition they receive at work feels like an empty gesture that isn't meaningful to them.
How effective are employee recognition programs?
Also, according to O.C. Tanner, strategic recognition programs that are consistently updated and well-executed have a 29% better chance of decreasing employee turnover. One-size-fits-all and outdated recognition programs are less likely to impact culture, employee retention, or succession planning positively.
Peter Drucker, known as "The Father of Modern Management," cited many years ago, "Employee satisfaction is not easily defined and cannot be usefully quantified. Rewards cannot create responsibility. To contribute significantly to the goals set out by management, an engaged worker is required."
Peter Drucker is also well known for introducing the concept of "management by objectives." He does so in a book titled "The Practice of Management," a concept that encourages the use of individual goals for employees to create a "one step at a time" approach to facilitate a calmer yet productive work environment. This allows employees to see their accomplishments, which reinforces a sense of achievement.
Does Culture Shape Market Performance?
The Institute for Corporate Productivity (i4cp), a Human Resource Consulting firm, surveyed over 7600 business professionals in 2018 and 2019 and asked them to rate their own organization's culture.
What did the results show? That market performance is a trait of a healthy culture. But, it's not the performance that creates the culture, but rather a healthy culture that is the cause of great performance.
Additionally, the survey showed an employee empowered culture was four times higher in high-performance organizations than low-performance organizations. An employee empowered culture provides a sense of ownership, accomplishment and makes employees feel valued for
their work.
This is a good example of intangible recognition, as effective and arguably more effective than tangible recognition through material rewards.
Will creating a culture of recognition slow the Great Resignation?
According to Kevin Oakes, author of "Culture Renovation," it's human nature for managers to want to keep talented employees that make them successful.
The key is how the organization recognizes and rewards managers who encourage advancement within their departments. Upward mobility is built into performance objectives.
Then, managers are compensated and internally recognized for their ability to develop people.
According to a Gallup survey, only one in three employees strongly agree they received recognition or praise for doing good work in the past seven days.
It isn't uncommon for employees to feel their best efforts are routinely ignored at any given company. Further, employees who do not feel adequately recognized are twice as likely to say they will quit in the next year.
Could that be part of the challenge with the Great Resignation? (Read more about the great resignation in this post)
A work-from-home workforce makes impromptu recognition or a casual "pat on the back" that much more challenging. As for the "manage by walking around" philosophy that encourages a show of appreciation and on-the-spot coaching? Managers can hardly do that from home.
Creating a Culture of Recognition in the Workplace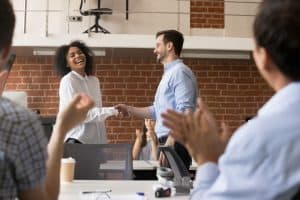 In the absence of face-to-face celebrations, events or even meetings, organizations need to get creative. Not necessarily for the short term, either. Now, some organizations are adopting a work-from-home long-term strategy, or a hybrid model, allowing employees to choose if and when they come to the office.
The reality is, every organization will do it somewhat differently.
Asking the employees, however, can be the ticket to a successful recognition program.
Collecting information and opinions from various employees before an annual Strategy Meeting is smart for an ideal bottom-up plan or a change to an existing plan. A balance between tangible and intangible recognition and rewards serves a broader group of employees.
Internal Development, Training, and Mentoring Programs
Career development strategies are more important than ever, not only as retention tools but also for recruitment. Most organizations have employees who do not consider advancement or lateral moves when they are first hired. Ensuring career-related discussions occur regularly and enrolling employees in well-structured mentoring programs can be an excellent motivator.
Informal learning happens naturally in many workplaces where employees gain knowledge through observations, meeting involvement or "water cooler" discussions. These opportunities are largely lost in the virtual workplace. Now, the blur of video meetings makes informal communication less likely.
(Learn more about navigating workplace culture in the new work from home reality here)
Organizations need to continue emphasizing talent development opportunities in a virtual environment. Otherwise, they will lose progress. When you offer employees a chance to advance, learn new skills, increase their earning potential due to company-sponsored training programs, they'll view these opportunities as valid recognition.
If the leadership team models the right behaviours, including consistently recognizing and appreciating their employees? Then they will demonstrate the desired culture of recognition and appreciation.
Corporate Recognition Programs
Training that leads to better work performance, the chance of advancement, enhanced skills and improved peer-to-peer relationships is an excellent complement to any corporate recognition program.
Many successful organizations even offer to sponsor, or part sponsor, post-secondary education that is relevant to the employee's role or future role. Now there are subsidies such as the
Canada-Alberta Job Grant that covers two-thirds of approved training costs.
As such, there has never been a better time to incorporate employee training in a corporate recognition program. (Learn more about this job grant here)
Training is an important tool for improving, or learning, all the required skills connected with employee engagement. Employee retention is an important factor, as well. And with turnover at an all-time high with the Great Resignation, the indirect costs of turnover are staggering. An effective recognition program that stems from a corporate strategic decision will significantly impact a favourable bottom line.
Would you like to talk more about creating a culture of recognition at your workplace? Contact us to book a call today.
About Kris
Kris did her Applied Project (Thesis) for her MBA on "The Impact of a Corporate Recognition Program on Creating a Positive Culture." She believes organizations that appreciate their employees and train their employees will reap the benefits of improved employee retention and effective internal succession.
Kris is also a Certified Everything DiSC® Facilitator and works with X5 Management in a training and coaching capacity to help businesses improve communication, teamwork and leadership effectiveness. X5 Management has been supporting business clients across Canada since 2006 with their training needs.
Did you learn a lot from this post about creating a culture of recognition?
Here are three more to read next: