As consumers, we are constantly buying something that we want or need. Some items are big like a house and some are small like a toothbrush. The product that we buy seems to relate to our expectations and patience with the sales process and of course with the level of service associated with the sale.
Last year, a friend of mine bought a second home in Arizona. (A great idea when we have cold/chilly weather in Edmonton for almost 6 months each year. ) After getting the home he had to do some shopping to stock up his home with furniture and appliances. He went to a well-known store (I will keep their name out of this story to be nice) and bought a washer/dryer and fridge/stove package. He arranged delivery while he was in Arizona as he was only there for one week due to work commitments back home.
The delivery truck arrived with the washer/dryer and a stove. "Where's the fridge?", my friend asked. The delivery drivers said; "I guess they didn't load it on the truck." My friend said: "well you will have to go back and get it." The drivers replied: "We can't because we are fully booked with deliveries this week."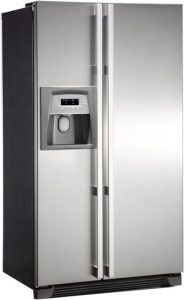 My friend called the local store and voiced his frustration and they replied with the same "no delivery this week" response. Now that his frustration hit another level, he drove to the store and talked to his sales representative. He once again was given the same answer. My friend moved up the management food chain and talked to the manager, and again he received the same response. Now, the volume of his tone was significantly LOUDER and he was asked to "keep it down" but he didn't tone it down. He tried to explain that he was only in Arizona for a few more days and a delivery next week was not an option. They still didn't want to help. He asked for his money back on the fridge and he would then go to another store to buy one. They refused to give him his money back. Crazy!! Finally, after more yelling and persistence, the manager of the store said. "Ok, you can rent a truck and we will load the fridge here, but you have to unload it yourself." Wow…this was NOT great service at all.
The moral of the story……..Don't let your fridge stand in the cold!! When you buy a fridge and stove, make sure you ask if they will be delivered on the same day.  We all have stories and examples of truly exceptional as well as terrible customer service experiences.  How would you rate the level of service your business provides its valued customers?  Are you offering remarkable service and is it consistent?  I challenge you to define service standards within your organization and become remarkable in your industry.